When you go to Antigua, make it a family-friendly trip by staying in a Caribbean beach house, such as The Carib House. The vacation rental has a lot of space, is comfortable, and features many great activities on site or close by.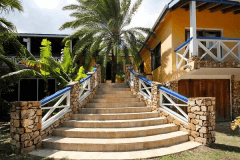 Plenty of Room in Antigua Vacation Rentals
Whether it is just you and your partner or you bring along the kids, there is no shortage of space at The Carib House. The villa has:
Five bedrooms, 3 with en suites
Outdoor shower
Spacious sitting and dining areas
large balcony
And more…
All of these features combine to help provide the spacious feeling you desire when you are away from home at your rented accommodation.
Unlike a hotel room, you won't feel as though you are cramped or have little space to yourself. Instead, there is plenty of room in case you want some alone time or when you feel like making a meal in the open plan kitchen. When it's fresh air that you crave, head onto the balcony and adjoining terrace for amazing views.
The Ultimate in Comfort
The villa at The Carib House offers roomy bedrooms with beds that invite sleep. The decor of the Caribbean beach house is made with comfort in mind. The bedrooms have King size beds, chairs for relaxing, and three have an en-suite bathroom. Ceiling fans in the bedrooms are great for keeping you cool as you sleep through the night or use the air conditioning unit instead.
Activities for the Family
The Carib House is the ultimate in Antigua vacation rentals with so much to do on site or nearby. Wander around the property with your group to fully enjoy the two acres of tropical gardens. They are private and well taken care of so take your time in your home away from home. Be sure to take a dip in the big swimming pool too that is available to you. Pool and beach towels are provided so all you have to do is to remember to bring swimsuits!
Offsite of the Caribbean beach house, be sure to make the most of the many activities in Antigua! From boating to massages, diving, fishing, tennis, and golf, you can certainly spend your days having family fun. There is also yoga, paintballing, windsurfing, and zip-lines.